OmniRide Celebrates 35 Years of Service
For Immediate Release: 08/17/2021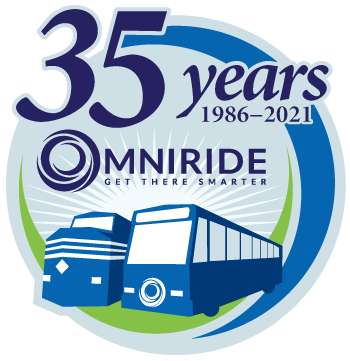 WOODBRIDGE, VA – – OmniRide is marking 35 years of providing mobility services for the National Capital region, and is inviting the community to join in on 35 days of celebrations. There will be contests, a digital scavenger hunt, and a chance to win prizes. The public may even learn OmniRide history and about exciting future plans along the way.
The organization provides Local bus service in Prince William County, Manassas and Manassas Park; Express service for commuters along the I-95 and I-66 corridors to employment centers in Northern Virginia and Washington, D.C.; and Metro Express which connects riders with Metro Stations. OmniRide also offers assistance to carpoolers and vanpoolers and coordinates a variety of employer services to help businesses to implement and expand commuter benefit programs. Currently, OmniRide's fleet is comprised of more than 150 buses. In FY 2019-2020 OmniRide carried a total of 1.8 million passengers on buses and 1.2 million passengers in vanpools.
OmniRide, the operating name for the Potomac and Rappahannock Transportation Commission (PRTC), was created by the Virginia General Assembly in 1986 and has operated bus services in the Prince William County area since 1991. Initially, the mission was to help oversee the startup of the Virginia Railway Express train service. However, in 1991, while the commuter rail service was still in the planning stages, Prince William County asked PRTC to take over the area's commuter bus service, which was then known as COMMUTERIDE. The bus service was renamed OmniRide in 1995.
There have been many milestones for OmniRide, the latest being the opening of the Western Bus Maintenance and Storage Facility in Manassas. Starting with the June 2021 service change, buses were dispatched from the Western Facility for the first time. This new facility allows for OmniRide to improve and expand transit services for western Prince William County residents and the business community, and will help to reduce congestion along the I-66 corridor. To kick-off 35th anniversary celebrations, OmniRide, in partnership with the Northern Virginia Transportation Authority (NVTA), hosted a ribbon cutting for OmniRide's Western Bus Maintenance and Storage Facility on August 11th.
Learn more about OmniRide's history and 35th celebration activities here.
About Us
The Potomac and Rappahannock Transportation Commission (PRTC), operating as OmniRide, provides commuter and local bus services as well as ridesharing services in Prince William County, the City of Manassas and the City of Manassas Park. It also co-sponsors the Virginia Railway Express in partnership with the Northern Virginia Transportation Commission.