Microtransit FAQs
Q: Where will the Manassas Park microtransit service operate?
A: The map below shows the service area (green highlight) for the service pilot.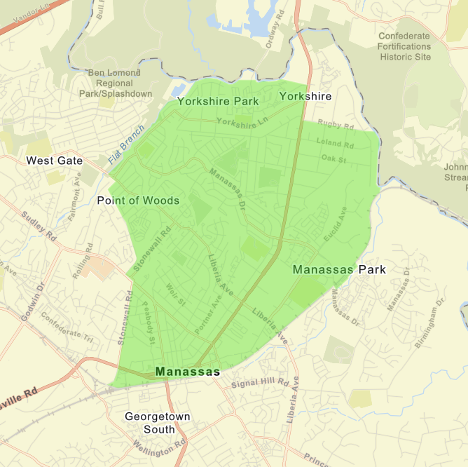 Q: What is microtransit?
A: Microtransit is defined as on-demand, shared public transit transportation that serves passengers using dynamically generated routes in response to individual or general consumer demand. It uses smaller vehicles (vans) and that utilize a mobile GPS platform. Passengers may be expected to make their way to and from common pick-up or drop-off points. Door-to-door service is not available.
Q: How would I set up a ride?
A: Passengers will be able to able to schedule rides using a mobile app, online web portal or by calling OmniRide's Customer Service Office during service hours. Rides will be reserved for same-day travel; they cannot be scheduled days in advance.
Q: When will the microtransit service run?
A: The pilot microtransit service will operate in Manassas Park Monday through Friday from 7:30AM to 7:30PM.
Q: How much will it cost to ride?
A: A one-way ride will cost $2.00. This service will not have a reduced fare option. OmniRide's Local routes are currently operating fare-free. If that remains in effect when microtransit is launched, then microtransit will also be fare-free.
Q: How long will I have to wait for my ride?
A: Passengers should have to wait no longer than 15 minutes for their ride to arrive.
Q: Will transfers to other routes be available?
A: Yes. At the Manassas Park VRE Station, riders can transfer to VRE trains and OmniRide Local Manassas (67) route. At the Hub at the Prince William County courthouse, riders can transfer to OmniRide Local Manassas (65 & 67), East-West Express (96), and Manassas Metro Express (60) routes.
**OmniRide will publish all the service rules requirements and service guidelines before the service is launched.**