Manassas - Dulles Corridor/Herndon/Reston - New Route
SPECIAL NOTICE: Starting December 12, only this new Route 608 and Gainesville-Washington (611) routes will serve the Balls Ford Commuter Lot. Other routes listed will be added in January.
For a full version of the service map, download the PDF of the route schedule.
Para obtener una versión completa del mapa, descargue el PDF del horario de la ruta.
Printable Schedule
Route Map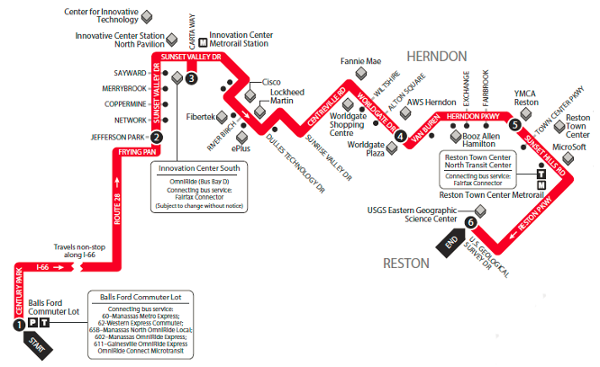 Timetables
Weekday AM
| Trip Number | Balls Ford Commuter Lot (Bus Bay 3) | Sunrise Valley and S. Jefferson Park Dr | Innovation Center South (Bus Bay D) | Worldgate Plaza | YMCA Reston | USGS Easter Geographic Science Center |
| --- | --- | --- | --- | --- | --- | --- |
| 608-1 | A.M. | A.M. | A.M. | A.M. | A.M. | A.M. |
| 608-2 | A.M. | A.M. | A.M. | A.M. | A.M. | A.M. |
| 608-3 | A.M. | A.M. | A.M. | A.M. | A.M. | A.M. |
| 608-4 | A.M. | A.M. | A.M. | A.M. | A.M. | A.M. |
| 608-5 | A.M. | A.M. | A.M. | A.M. | A.M. | A.M. |
| 608-6 | A.M. | A.M. | A.M. | A.M. | A.M. | A.M. |
Weekday PM
| Trip Number | USGS Easter Geographic Science Center | YMCA Reston | Worldgate Plaza | Innovation Center South (Bus Bay D) | Sunrise Valley and S. Jefferson Park Dr | Balls Ford Commuter Lot (Bus Bay 3) |
| --- | --- | --- | --- | --- | --- | --- |
| 608-1 | P.M. | P.M. | P.M. | P.M. | P.M. | P.M. |
| 608-2 | P.M. | P.M. | P.M. | P.M. | P.M. | P.M. |
| 608-3 | P.M. | P.M. | P.M. | P.M. | P.M. | P.M. |
| 608-4 | P.M. | P.M. | P.M. | P.M. | P.M. | P.M. |
| 608-5 | P.M. | P.M. | P.M. | P.M. | P.M. | P.M. |
| 608-6 | P.M. | P.M. | P.M. | P.M. | P.M. | P.M. |